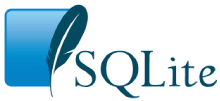 *** DRAFT ***
SQLite Release 3.17.0 (Pending)
Add the SQLITE_DEFAULT_LOOKASIDE compile-time option.
Increase the default lookaside size from 512,125 to 1200,100 as this provides better performance while only adding 56KB of extra memory per connection. Memory-sensitive applications can restore the old default at compile-time, start-time, or run-time.
Change SQLITE_DEFAULT_PCACHE_INITSZ from 100 to 20, for improved performance.
Added the SQLITE_UINT64_TYPE compile-time option as an analog to SQLITE_INT64_TYPE.
Perform some UPDATE operations in a single pass instead of in two passes.
Other performance improvements.

Bug Fixes:

Throw an error if the ON clause of a LEFT JOIN references tables to the right of the ON clause. This is the same behavior as PostgreSQL. Formerly, SQLite silently converted the LEFT JOIN into an INNER JOIN. Fix for ticket 25e335f802dd.
A complete list of SQLite releases in a single page and a chronology are both also available. A detailed history of every check-in is available at SQLite version control site.
*** DRAFT ***