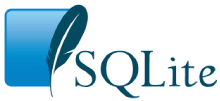 *** DRAFT ***
SQLite Release 3.14.0 On 2016-07-00
Added support for WITHOUT ROWID virtual tables.
Improved the query planner so that the OR optimization can be used on virtual tables even if one or more of the disjuncts use the LIKE, GLOB, REGEXP, MATCH operators.
Added the csv.c loadable extensions, for reading CSV files.
Enabled persistent loadable extensions using the new SQLITE_OK_LOAD_PERMANENTLY return code from the extension entry point.
Add the vfsstat.c loadable extension - a VFS shim that measures I/O together with an eponymous virtual table that provides access to the measurements.
Improved algorithm for running queries with both an ORDER BY and a LIMIT where only the inner-most loop naturally generates rows in the correct order.
Enhancements to Lemon parser generator, so that it generates a faster parser.
The PRAGMA compile_options command now attempts to show the version number of the compiler that generated the library.
A complete list of SQLite releases in a single page and a chronology are both also available. A detailed history of every check-in is available at SQLite version control site.
*** DRAFT ***